---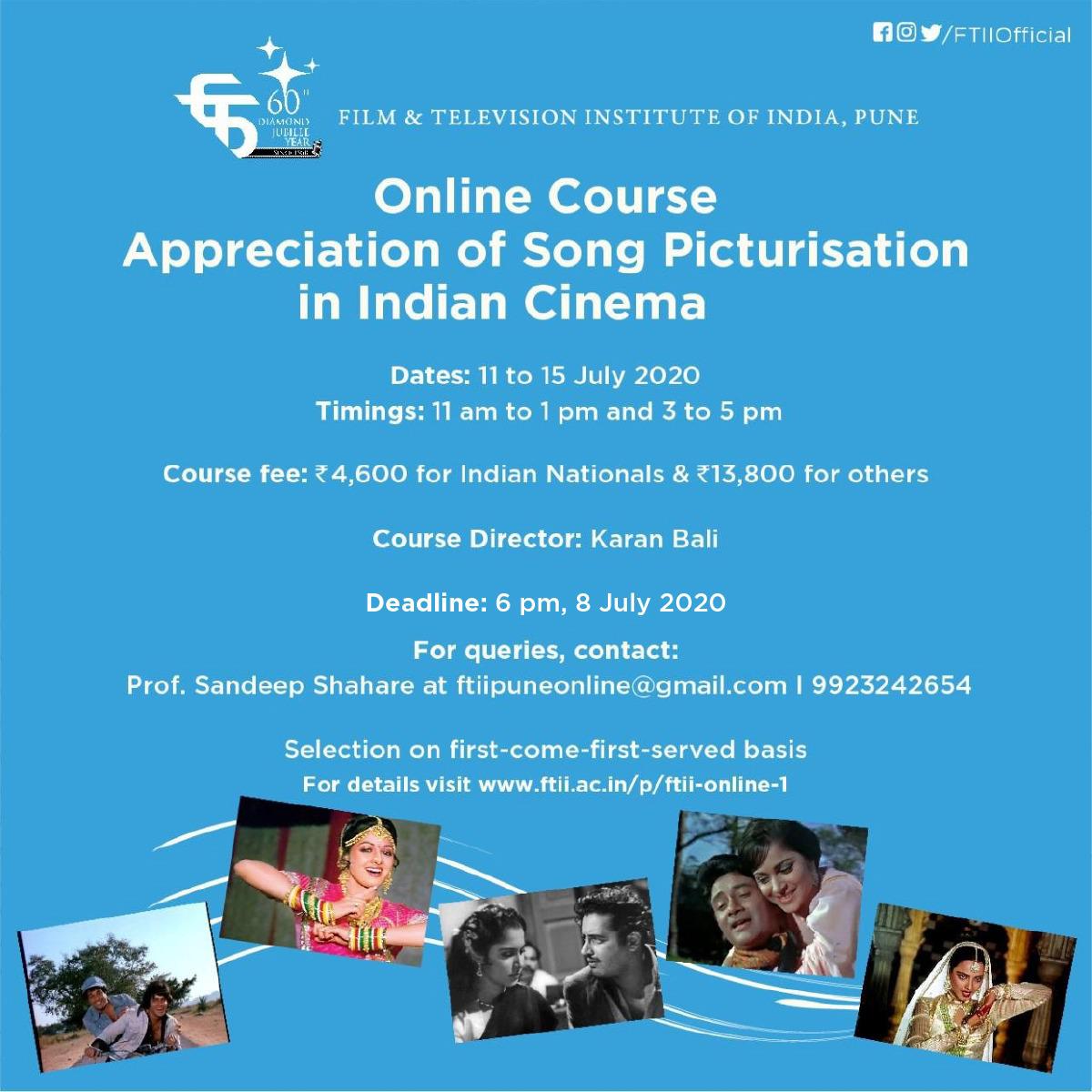 Appreciation of Song Picturisation in Indian Cinema (Online) from11th to 15thJuly 2020
Film and Television Institute of India (FTII), Pune, announces a five-day Short Course – Appreciation of Song Picturisation in Indian Cinema (Online).
Following are the details in this regard;
(1)
Name of Course
:Appreciation of Song Picurisation in Indian Cinema (Online)
(2)
Dates
:11th to 15thJuly 2020
(3)
Timings
:11 am to 1 pmand 3to5 pm (Indian Standard Time – IST)
(4)
Max. no. of participants
:50 (Course will be conducted only if min. strength of 40 participants is reached)
(5)
Age
:18 years &above as on 01st July 2020 (participants born on or before 30th June 2002)
(6)
Educational Qualification
: HSC (12thstd. pass). In exceptional cases, 10th pass may be considered
(7)
Medium of Instructions
: English
(8)
Per Participant Course fee
:Rs 4,600/- for Indian Nationals and Rs 13,800/- for Foreigners including NRI, OCI etc. Course fee is inclusive of GST. Course fee of selected participants will be non-refundable, non-transferrable, non-adjustable, etc. under any circumstances. Course fee of all the non – selected participants will be returned within 07 – 10 days of the course commencement.
(9)
Mode of payment
: Online through SBI Collect (along with application form).
(10)
Due date & time to submit application
:8th July 2020, 6 pm IST. Application submitted after due date & time will not be considered.
(11)
Selection Criteria
: On First – Come – First – Served Basis.List of selected participants will be published on FTII website. Also, selection emails will be sent to all the selected participants.
(12)
Online platform
: FTII will be using "Google Classroom" and participants are requested to get familiarized with the same. Steps to join online class including login id & password will be shared with each selected participant in the selection email.
(13)
Computer literacy
: It is the participant's responsibility to be technologically capable to take an online course. Participants must be computer literate.
(14)
MANDATORY REQUIREMENT
:
Since the course is online, participants must have following facilities;
(i) A Desktop / Laptop having minimum 8 GB RAM, 1.6 GHz or better processor (Intel i3 or i5 or better). (Windows / MAC)
(i) Operating system: a) Windows 7 or 8 or 10. b) MAC OS Sierra or later
(iii) Audio – Video software: Latest versions of VLC player, Windows Media Player or Quick Time Player.
(iv) Compatible good quality headphones/ earphones with mic
(v) Compatible HD webcam
(vi) Internet pack of minimum 5 GB per day exclusively for this course. It is recommended to have fixed wired Internet connection with minimum speed of 10 Mbps or more.
(vii) Web browser: Latest version of Google Chrome (Preferred), Firefox, Internet Explorer, Safari.
Use of Mobile Phone (in place of Laptop or Desktop Computer) to attend the classes is strictly prohibited. Such participants will not be allowed to join the classes.
(15)
Course Director
: Mr. Karan Bali
Karan graduated from the Film & Television Institute of India (FTII), Pune, with specialization in Film Direction in 1993. With Mumbai as his base, he has been making mainly documentaries since then besides being first assistant director on two feature films, Everybody Says I'm Fine and Matrubhoomi – A Nation Without Women. His last film, the acclaimed An American in Madras, is his first feature length documentary that screened in various film festivals worldwide and which is available for viewing now on Netflix. He teaches filmmaking and is also the co-founder and content-in-charge of Upperstall.com, an analytical website on cinema of the sub-continent and its history and has also contributed to writings on Indian cinema in both, the print and online media.
2. Select All India in State of Corporate / Institution, then select Educational Institutions in Type of Corporate/ Institution and click Go.
3. Search/Find FTII Fees Account in Educational institutions name and click submit.
4. In the payment category select "Appn of Song Picturisation in Indian Cinema Online".
5. Fill-up the application form with requisite details and proceed for payment.
6. Make necessary payment of Rs 4,600/- OR Rs 13,800/- as the case may be.
7. Once payment is done, please note "SBcollect Reference Number" (mentioned in payment confirmation receipt). This may be required for future reference.
8. If possible, digitally store the receipt of payment. This can be carried out in one of the following ways;
(i) by taking printout of receipt of payment, scan & save it
(ii) by taking screenshot of payment (if using mobile) or printscreen (if using computer)
(iii) by simply taking a photograph from mobile
9. No document/ certificate related to educational qualification, age etc. is to be attached.Participants' self – declaration in the application form is sufficient.
10. Terms & conditions: By agreeing to the terms & conditions in the application form, participants are confirming that they have read & understood the website advt. They are eligible to apply and fulfil all the requirements as stated in the advt. Further, participants agree that decision of FTII Director regarding admission to the course and its conduction will be final.
(17)
Communication with participants
: All communications with the participants will be carried out through email only. List of shortlisted participants may be published on FTII website and selection email will be sent to the selected participants on their registered email id.
(18)
Certificates
: All participants would be given participation e-certificates on successful completion of the course. Minimum 90% attendance is mandatory.
(19)
Queries
: For any queries please contact Prof. Sandeep Shahare on ftiipuneonline@gmail.com OR on 9923242654
Course Details
Right from India's very first Talkie, AlamAra released on March 14, 1931 music, in particular song and dance, has always been an integral part of the narrative form of our country's different cinemas. In fact, many a time it was music and the songs that were the reason for multiple viewings of a film by audiences or what we call, the 'repeat value' of a film. Telling our stories using song and dance has given Indian mainstream cinema its own special identity down the years.
From the earliest songs recorded in front of the camera with live orchestras to the development of the playback system – wherein the song is first recorded in a studio and subsequently played back on location for the actors to move their lips to; from the simplicity of words to highly poetic songs carrying a world view of their own; from basic tunes mostly taken from Indian folk or semi classical music to influences from the West and more layered compositions; from untrained singing voices to specialist playback artistes; from functional dance steps to highly evolved choreography; from single static shots to a collage of shots involving complex camera and character movements, the Indian film song has followed a unique journey of its own.
The aim of the 5-dayscourse is to take the participant through this magical travelogue from the coming of sound in Indian cinema to its golden age in the 1950s to present day trends. Even as we trace the evolution of the Indian film song, we would, in parallel, look at the brief history of Indian cinema alongside to be able to put Indian film music in context Through the workshop we would also highlight the invaluable contribution of our great composers, lyricists, singers, choreographers and of course filmmakers who were all able to combine together and take song picturisation to an art form.