---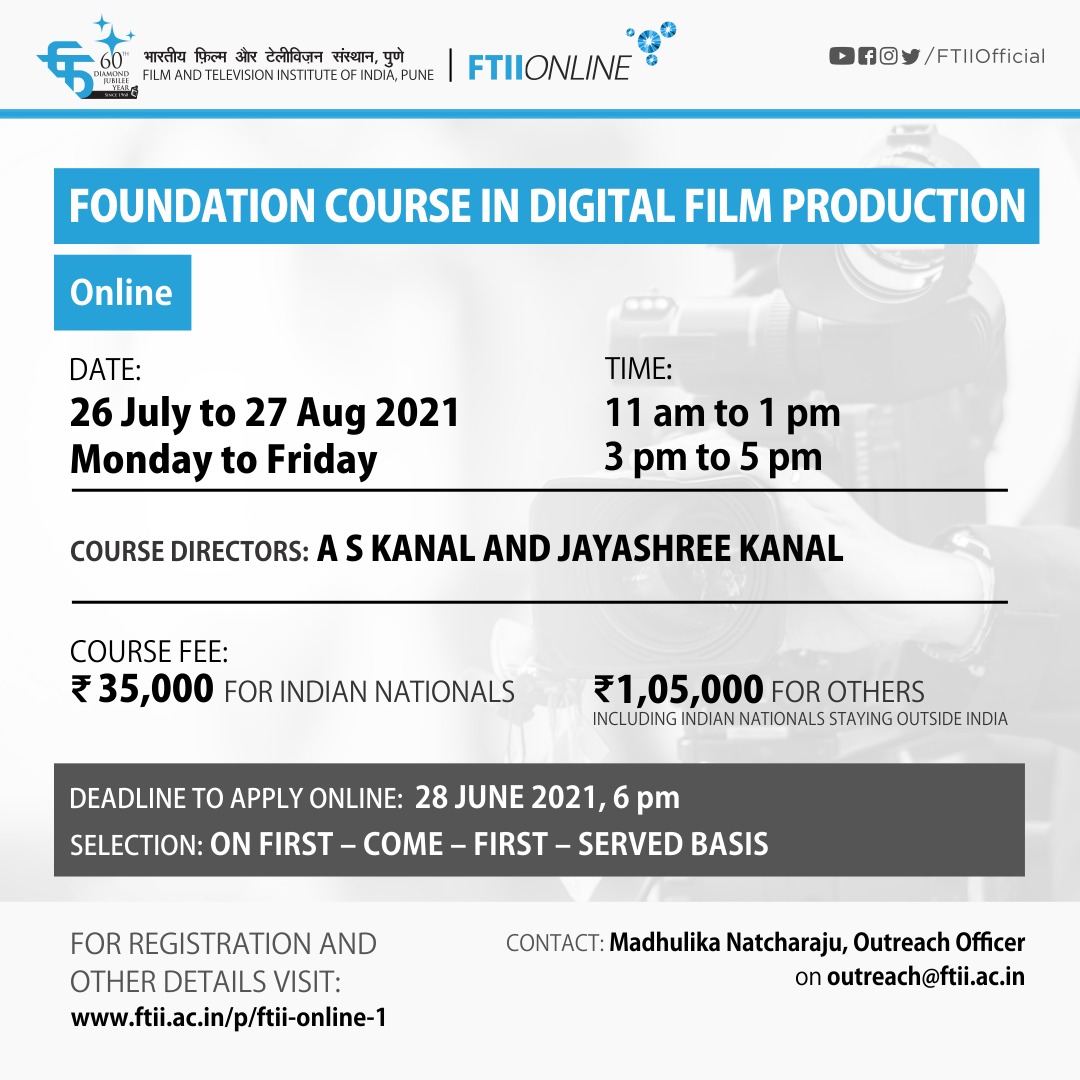 Foundation Course in Digital Film Production (Online) from 26th July to 27th Aug. 2021 
Film and Television Institute of India (FTII), Pune, under its 'FTII Online' initiative announces Foundation Course in Digital Film Production (Online). 
Following are the details in this regard;
(1)
Name of the Course:
Foundation Course in Digital Film Production (Online).
(2)
Duration:
05 Weeks, 25 days. 
Classes will be held only from Monday to Friday i.e 25 days. Although no classes will be held on Saturdays & Sundays, participant need to work on exercises, assignments etc. on these days i.e. in these 7 days. Thus, overall commitment of 33 days is required from a participant.
(3)
Dates:
26th July to 27th Aug. 2021 (Monday – Friday)
(4)
Course-end project:
Two short films (one fiction and one non-fiction) of about 3 minutes in duration
(5)
Timings:
11 am to 1 pm and 3 to 5 pm (Indian Standard Time – IST). Timings may exceed depending on the course requirement. On few days, timings may change generally on mutual agreement.
(6)
Max. no. of participants:
15 (Course will be conducted only if minimum strength of in-total 12 participants is reached)
(7)
Age:
18 years & above as on 01st July 2021 (participants born on or before 30th June 2003)
(8)
Educational Qualification:
HSC (12th pass). In exceptional cases, 10th pass may be considered
(9)
Online Platform:
Google Classroom & Google Meet platform
(10)
Instructional Mode:
Online lectures, visual modelling & examples and practical.
(11)
Medium of Instructions:
Mix of English and Hindi
(12)
Per Participant Course fee:
(a)
For Indian Nationals: Rs 35,000/- (base fee = Rs 29,661/- and GST = Rs 5,339/-) 
(b)
For Foreigners including NRI, OCI etc. and also those who are presently staying outside India: Rs 1,05,000/- (base fee = Rs 88,983/- and GST = Rs 16,017/-).
Course fee of selected participants will be non-refundable, non-transferrable, non-adjustable, etc. under any circumstances. Course fee of all the non – selected participants will be returned within 07 – 10 days of the course commencement.
(13)
Mode of payment:
Online through SBI Collect (along with application form).
(14)
Due date & time to submit application:
 28th June 2021, 6 pm IST. Application submitted after due date & time will not be considered.
(15)
Selection Criteria:
On First – Come – First – Served Basis. List of selected participants will be published on our website and selection emails will also be sent to all the selected participants. 
(16)
Online platform:
FTII will be using "Google Classroom" and participants are requested to get familiarized with the same. Steps to join online class including login id & password will be shared with each selected participant in the selection email. 
(17)
Computer literacy:
It is the participant's responsibility to be technologically capable to take an online course. Participants must be computer literate.
(i)
Willing to dedicate 33 days of his/her time for this course 
(ii)
Resources required with participants:
(a)
DSLR that will give auto focus in video mode or Video Camera.  Video camera tripod.
(b)
Facility to record audio on DSLR/Video camera or an external recorder, external microphone, audio extension cable, head phone
(c)
Computer with editing software to edit exercises and programs
(iii)
Preferred editing software Adobe Premiere Pro.
If not available, download free editing software - DaVinci Resolve 12 / 14 or 16
Check before downloading or acquiring an editing software  
(1) Whether hardware configuration of your computer supports this software, (2) Does this software support editing of video files created by your camera, (3) Whether a program like Adobe Audition can work with this editing software – if yes, have that also, - or some similar audio program.
Please note: Shooting of exercises and project will happen only in HD or SD mode during this course. No shooting in 4K even if participant's camera supports it. 
•

Download video tutorial for downloaded editing software and practice basic operations on it before the commencement of the course
(19)
MANDATORY REQUIREMENT:
Since the course will be conducted online, participants must have following facilities;
(i) A Desktop / Laptop having minimum 8 GB RAM, 1.6 GHz or better processor (Intel i3 or i5 or better).  (Windows / MAC)
(ii) Operating system: a) Windows 7 or 8 or 10. b) MAC OS Sierra or later 
(iii) Audio – Video software: Latest versions of VLC player, Windows Media Player or Quick Time Player.
(iv) Compatible good quality headphones/ earphones with mic
(v) Compatible HD webcam
(vi) Internet pack of minimum 5 GB per day exclusively for this course. It is recommended to have fixed wired Internet connection with minimum speed of 10 Mbps or more.
(vii) Web browser: Latest version of Google Chrome (Preferred), Firefox, Internet Explorer, Safari.
Use of Mobile Phone (in place of Laptop or Desktop Computer) to attend the classes is strictly prohibited. Such participants will not be allowed to join the classes.
(20)
Course Directors:
Mr. A S Kanal and Jayshree Kanal
(A) 
Jayashree Kanal:
Film Maker & Media Teacher
Academic Qualification
1.
Bachelor of Journalism,
Pune University
2.
M.A.(Marathi)
Pune University
Professional Qualifications:
1.
Training the Trainers (TV): Radio Netherlands Training Centre, Netherlands
2.
Bringing Training Methods Up To Date:
Radio Netherlands Training Centre in collaboration with AIBD, Malaysia
3.
Sub-Regional Workshop for Developing Training Resources: AIBD – FTII
4.
International Workshop for Teachers of Script Writing
5.
Workshop on Project Management, New Delhi
a)

Professional Experience:
i. Film & Television Institute of India:
•
Headed Television Direction Dept.
•
Developed syllabus & structure for 1-year Television Courses and conducted Direction course for 2 years.  
•
Written- Produced- Directed Television Programs in drama and documentary formats for Television Research & Prototype Production Unit - a UNESCO and FTII project. The aim was to explore ways of community development through television programs. 
•
Member of former Academic Council FTII 
ii. Two Feature films for Children's Film Society, India (CFSI):-
1.
Chhota Sipaahi (2004) – Little Soldier: Hindi, 35mm, 90 mts. 
•
President's award : Best Child Actor, 2005
•
Bronze Remi Award at Worldfest, Huston. 
•
Jury's special mention – Children's Film Festival, Columbia
•
Various International & National Children's Film Festivals
2.
KattKattKadKaddu (2000) (Telegraphic Code and a Pumpkin): Hindi, 35mm, 90 mts. Shown at various international children's film festivals. 
iii. Short films: Script, direction, editing of several programs for different organisations
b)Media Teacher
a.
For SKIFT: Conducted 2 short term training programs in Digital Film Production 
b.
For Vikshi Institute of Media Studies : Conducted 30 short courses in Digital Film Production
c.
Curriculum designing for one-month to two-year courses in Digital Film Production.
d.
Guest faculty / Examiner to different institutes
c).  Jury member at various film / theatre competitions including-
i) National Film Awards (Feature films), ii) Indian Panorama (Feature films), 
(B) 
Shri A S Kanal
Filmmaker and media teacher
Director, Vikshi Institute of Media Studies
Education
•
Diploma in Cinema (1969-72) in Motion Picture Photography from Film and Television Institute of India, Pune
•
MA in Educational Communication
Professional Qualifications
•
Full-bright Scholarship in Communication Technology 1990-91
•
AIBD course in Lighting for Television
Professional Experience
•
Cinematographer for a number of feature films, short films, ad films, documentaries and television series. 
•
Produce & Direct social massage films(drama & documentary), corporate films
•
Executive Producer and Co-director for 2 children feature films.
Media Teaching 
•
Courses conduced for SKIFT
(i) Foundation course in Digital Cinematography (offline) – 08,
 (ii) Foundation course in Digital Cinematography (online)  – 1
(iii) Digital Film Production (offline) – 2
(iv) Digital Film Production (online) - 1
•
Established `Vikshi Institute of Media Studies' in 1995. Conduct short courses in:-
              (i) Cinematography (Film as well as Digital) – 45
              (ii) Digital Film Production – 30 
              (iii) Editing - 17 
Digital Film Production – 30
Organize and conduct advance workshops in Motion Picture Photography and Arri Alexa. 
•
Taught Cinematography & Television Production at FTII from 1980 - 1995. 
•
Now, visiting faculty at a number of institutes
Publications 
•
Edited & published a book `Cinematographer's Handbook: Film & Video' (2nd edition in 2008) 
•
Founder Editor of quarterly technical journal `Lensight' at the FTII. Edited it from 1991 - 1995
Syllabi  
•
Have developed curricula for a proposed Master level course in Digital Cinema. 
•
Contributed to syllabus / curriculum for Cinema inputs for a number of universities / institutes teaching Video Production
•
Member Board of Studies –State University of Performing and Visual Arts Haryana
Jury Member
•
Chairman Non-feature national film awards -2019
•
Jury member for 59th National Film Awards (Feature Films)
•
Jury member Indian Panorama (Feature Films) International Film Festival of India 2015
•
For ICE Short Film Festival
Honour: Honoured
by Sri-Lanka Foundation-Digital Film Academy for
Contribution to the field of Film Education 
3. Read the "Terms Used", then tick/ click on the 'check box' and further click on "Proceed"
4. Select All India in State of Corporate / Institution, then select Educational Institutions in Type of Corporate/ Institution and click Go. 
5. Search/Find FTII Fees Account in Educational institutions name and click submit. 
6. In the payment category select "B2 Foundation Course in Digital Film Production O".
7. Fill-up the application form with requisite details and proceed for payment.
8. Make necessary payment of Rs 35,000/- OR Rs 1,05,000/- as the case may be.
9. Once payment is done, please note "SBcollect Reference Number" (mentioned in payment confirmation receipt). This may be required for future reference.  
10. If possible, digitally store the receipt of payment. This can be carried out in one of the following ways;
(i) by taking printout of receipt of payment, scan & save it 
(ii) by taking screenshot of payment (if using mobile) or printscreen (if using computer) 
(iii) by simply taking a photograph from mobile
11. No document/ certificate related to educational qualification, age etc. is to be attached. Participants' self – declaration in the application form is sufficient.
12. Terms & conditions: By agreeing to the terms & conditions in the application form, participants are confirming that they have read & understood the website advt. They are eligible to apply and fulfil all the requirements as stated in the advt. Further, participants agree that decision of FTII Director regarding admission to the course and its conduction will be final. 
Further to add in this, it is expected of the participants that during the class they must mute their mics but keep their cameras on unless otherwise instructed. Keeping camera off throughout the class or not heeding to instructions to switch on the camera will be seen as an act of indiscipline and will lead to expulsion from the Course and forfeiture of the Course fee. Decision of FTII Director regarding conducting the course in all respects will be final.
(22)
Communication with participants:
All communications with the participants will be carried out through email only. List of shortlisted participants will be published on FTII website and selection email will be sent to the selected participants on their registered email id. 
(23)
Certificates:
All participants would be given participation e-certificates on successful completion of the course. Minimum 90% attendance is mandatory.
(24)
Queries:
For any queries please contact Madhulika on outreach@ftii.ac.in 
Course Details
Aim / Objective
There is a growing hunger in many individuals to make films, experience the excitement of what goes behind the screen. This course aims to take such individuals through the process of digital film making, introduce them to professional approach at each stage of film making.    
Abstract:
Supported by theoretical inputs, number of practical exercises and one to one discussion will equip the participants to make short, independent films.
By joining this course, one is not just learning the creative and technical aspects of film making but also the managerial. Being part of this online course and given the present conditions, participants will have to organize members of shooting team. Not just that, they may have to train these team members for positions like actors, assistant director, sound person, production manager etc. 
Course-end project: Two short films (0ne fiction and one non-fiction) of about
3 minutes in duration.
Contents
01.
How films are made (T)
02.
Scene, shot, sequence. Basic image sizes (T/P)
03.
Visual Composition (T/P)
05.
Camera movements (T/P)
08.
Editing Process (T/P)
09.
Continuity (T/P) - slate and continuity sheet
10.
Directional continuity and Floor Plan (T/P)
11.
Dialogue pick-up on location (T/P)
13.
Director at work, Mise-en-scene (T/P)
14.
Introduction to Sound Design (T/P)
15.
Non-fiction films (T/P)
16.
Script presentations & consultations for independent films