---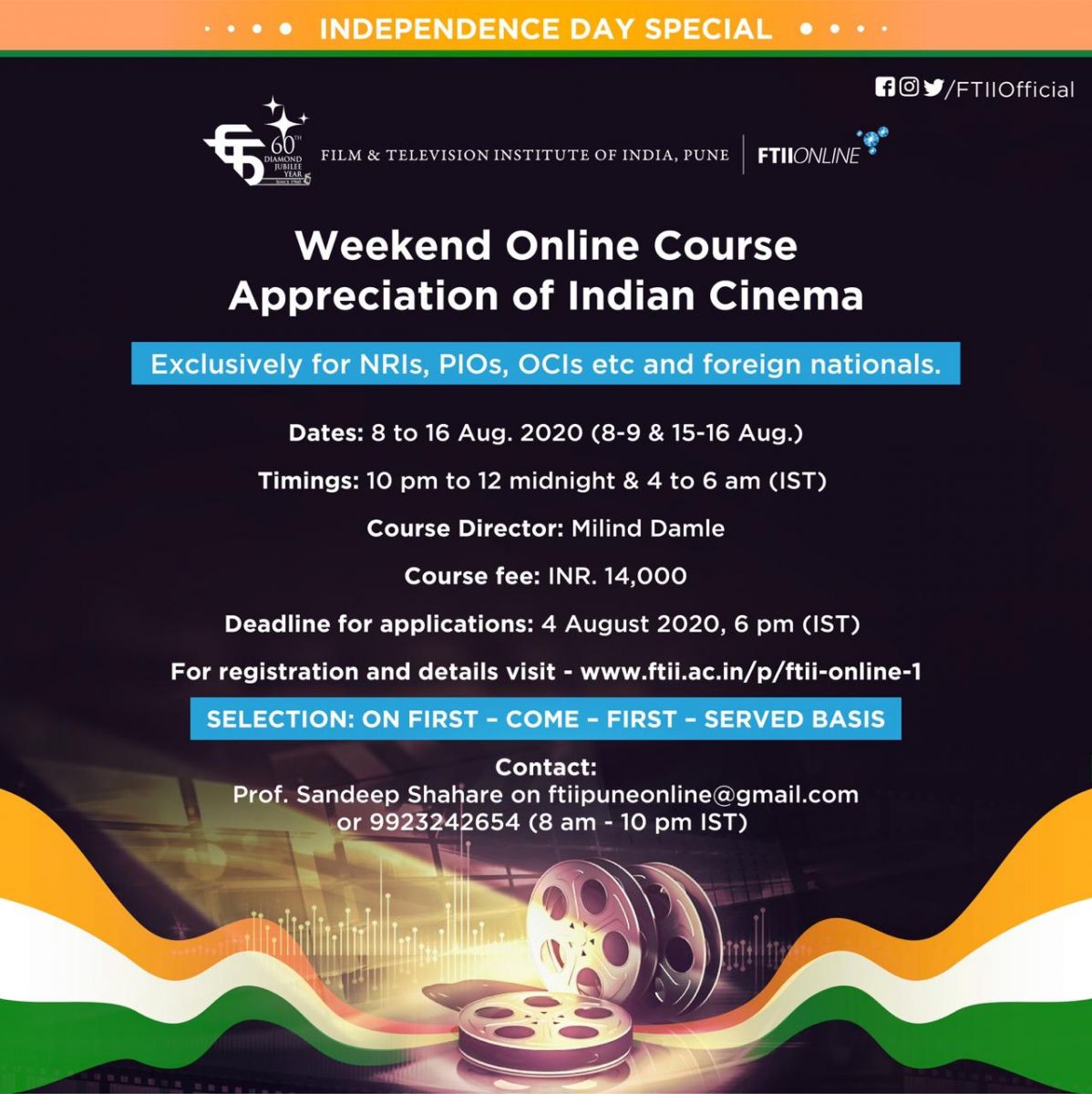 Weekend Course in Appreciation of Indian Cinema from 08th to 16thAug. 2020

Film and Television Institute of India (FTII), Pune under its 'FTII Online' initiative announces Weekend Online Course – Appreciation of Indian Cinema exclusively for NRIs, PIOs, OCIsetc,and all those who are presently staying outside India and foreign nationals.

Following are the details in this regard;

(1) Name of the Online Course:Appreciation of Indian Cinema (Weekend).
(2) Dates:08th to 16thAug. (Only on Saturdays & Sundays)
(08 – 09& 15 – 16 Aug. 2020)
(3) Timings:10 pm to 12 midnightand 4to6 am (Indian Standard Time – IST)
(4) Max. no. of participants:50 (Course will be conducted only if min. strength of 40 participants is reached)
(5) Age:18 years &above as on 01st Aug. 2020 (participants born on or before 31th July2002)
(6) Educational Qualification: HSC (12th pass). In exceptional cases, 10th pass may be considered
(7) Online Platform: Google Classroom & Google Meet platform
(8) Medium of Instructions: English
(9) Per Participant Course fee:Rs 14,000/ (base fee = Rs 11,864/- and GST = Rs 2,136/-)
Course fee of selected participants will be non-refundable, non-transferrable, non-adjustable, etc. under any circumstances. Course fee of all the non – selected participants will be returned within 07 – 10 days of the course commencement.
(10) Mode of payment: Online through SBI Collect (along with application form).
(11) Due date & time to submit application:4th Aug. 2020, 6 pm IST. Application submitted after due date & time will not be considered.
(12) Selection Criteria: On First – Come – First – Served Basis.List of selected participants will be published on our website and selection emails will also be sent to all the selected participants.
(13) Online platform: FTII will be using "Google Classroom" and participants are requested to get familiarized with the same. Steps to join online class including login id & password will be shared with each selected participant in the selection email.
(14) Computer literacy: It is the participant's responsibility to be technologically capable to take an online course. Participants must be computer literate.
(15) MANDATORY REQUIREMENT:

Since the course is online, participants must have following facilities;

(i) A Desktop / Laptop having minimum 8 GB RAM, 1.6 GHz or better processor (Intel i3 or i5 or better). (Windows / MAC)
(ii) Operating system: a) Windows 7 or 8 or 10. b) MAC OS Sierra or later
(iii) Audio – Video software: Latest versions of VLC player, Windows Media Player or Quick Time Player.
(iv) Compatible good quality headphones/ earphones with mic
(v) Compatible HD webcam
(vi) Internet pack of minimum 5 GB per day exclusively for this course. It is recommended to have fixed wired Internet connection with minimum speed of 10 Mbps or more.
(vii) Web browser: Latest version of Google Chrome (Preferred), Firefox, Internet Explorer, Safari.

Use of Mobile Phone (in place of Laptop or Desktop Computer) to attend the classes is strictly prohibited. Such participants will not be allowed to join the classes.
(16) Course Director (Main Faculty):Milind Damle, Head, TV Direction Dept., FTII

Milind Damle is a FTII alumni with specialization in Film and TV Editing 2004. He has been practicing Radio, TV, Film in various creative positions such as writer, producer and director. Dwijaa, the Diploma film he wrote and edited won a National Award in 2005. AdwaitSangeet, which was honoured as opening film of Indian Panaroma, IFFI 2011 was co produced by him. He has also worked as Coordinator for UNDP FTII Planning Commission Project "Films for Human Development" producing 32 films in 13 states of India. 'BhangaGara', a film produced under this project won a National award in 2009. After working with the Star TV as Executive Producer, now he serves FTII as faculty since 2012. He did his MA in Mass communication and journalism while in service in 2015. He also practices Film Editing in Indian Cinema. His last commercial release was 'Disco Sanya' in 2016. The next ready for release is 'Bhurjee' (Marathi) & 'Bawdy House' (English) in 2020. He has recently been awarded Audio Visual fellowship on Gandhian Philosophy by National Institute of Naturopathy under the Ministry of Aayush. He completed the fellowship program by producing and directing 'Sabarmati Ashram: the idea and the inspiration' a 15 minute documentary on the iconic monument as a tribute to Mahatma Gandhi on his 150th birth anniversary year. In 2019 he has Written, Edited and produced a Short Film titled "PANDHARA CHIVDA", which has begun taking rounds in film festivals in India.

(17) How to apply:

1. Click open the link - https://www.onlinesbi.com/sbicollect/icollecthome.htmOR visit www.onlinesbi.com and further click on "SB Collect" which is at the top left, vertically 06th from left to right.
3. Read the "Terms Used", then tick/ click on the 'check box' and further click on "Proceed"
4. Select All India in State of Corporate / Institution, then select Educational Institutions in Type of Corporate/ Institution and click Go.
5. Search/Find FTII Fees Account in Educational institutions name and click submit.
6. In the payment category select "Appreciation of Indian Cinema (Online)".
7. Fill-up the application form with requisite details and proceed for payment.
8. Make necessary payment of Rs 14,000/-.
9. Once payment is done, please note "SBcollect Reference Number" (mentioned in payment confirmation receipt). This may be required for future reference.
10. If possible, digitally store the receipt of payment. This can be carried out in one of the following ways;
(i) by taking printout of receipt of payment, scan & save it
(ii) by taking screenshot of payment (if using mobile) or printscreen (if using computer)
(iii) by simply taking a photograph from mobile
11. No document/ certificate related to educational qualification, age etc. is to be attached.Participants' self – declaration in the application form is sufficient.
12. Terms & conditions: By agreeing to the terms & conditions in the application form, participants are confirming that they have read & understood the website advt. They are eligible to apply and fulfil all the requirements as stated in the advt. Further, participants agree that decision of FTII Director regarding admission to the course and its conduction will be final.
Further to add in this, it is expected of the participants that during the class they must mute their mics but keep their cameras on unless otherwise instructed. Keeping camera off throughout the class or not heeding to instructions to switch on the camera will be seen as an act of indiscipline and will lead to expulsion from the Course and forfeiture of the Course fee. Decision of FTII Director regarding conducting the course in all respects will be final.

(18) Communication with participants: All communications with the participants will be carried out through email only. List of shortlisted participants may be published on FTII website and selection email will be sent to the selected participants on their registered email id.
(19) Certificates: All participants would be given participation e-certificates on successful completion of the course. Minimum 90% attendance is mandatory.
(20) Queries: For any queries please contact Prof. Sandeep Shahare on ftiipuneonline@gmail.com OR on 9923242654 (8 am to 10 pm – IST)


Course Contents

Cinema, a very contemporary art, has its own aesthetics.

Popular and art alike have their own fan following. The understanding behind the making of a film is a joy to explore and appreciating Cinema is a creation of new knowledge.

What is it about Cinema that has kept its magic intact for over a century? It can be fun to learn about Cinema, an amalgamation of all art forms, and how it relates with other art forms.

Generations of audiences have loved Cinema. It has travelled from a full house movie theatre to TV sets in a drawing room to a mobile phone screen !

What keeps it going? Is it the storytelling? Is it the stardom? Is it the way it reflects society? Or it's just a dream world !

Through this course of APPRECIATION OF INDIAN CINEMA we will try to answer these questions and explore the contours of human relationships, their moments of joy and sorrow, and their emotions with the silver screen.

Over two weekends (four days) we will explore some old and new Indian films. The course aims to look at Indian Cinema from various angles and perspectives.

The course is structured around the following aspects:

A) Brief history and journey of cinema from an Indian perspective.

B) Viewing of short films and feature films and exploring various specialisations of film making, learning how a film is made and who does what.

C) Interactive classes with discussions and film analysis sessions with domain experts on popular Indian Cinema.

D) Presentations on exploration of music, songs and dances: the unique feature of Indian Cinema.

E) Regional or language cinema.