---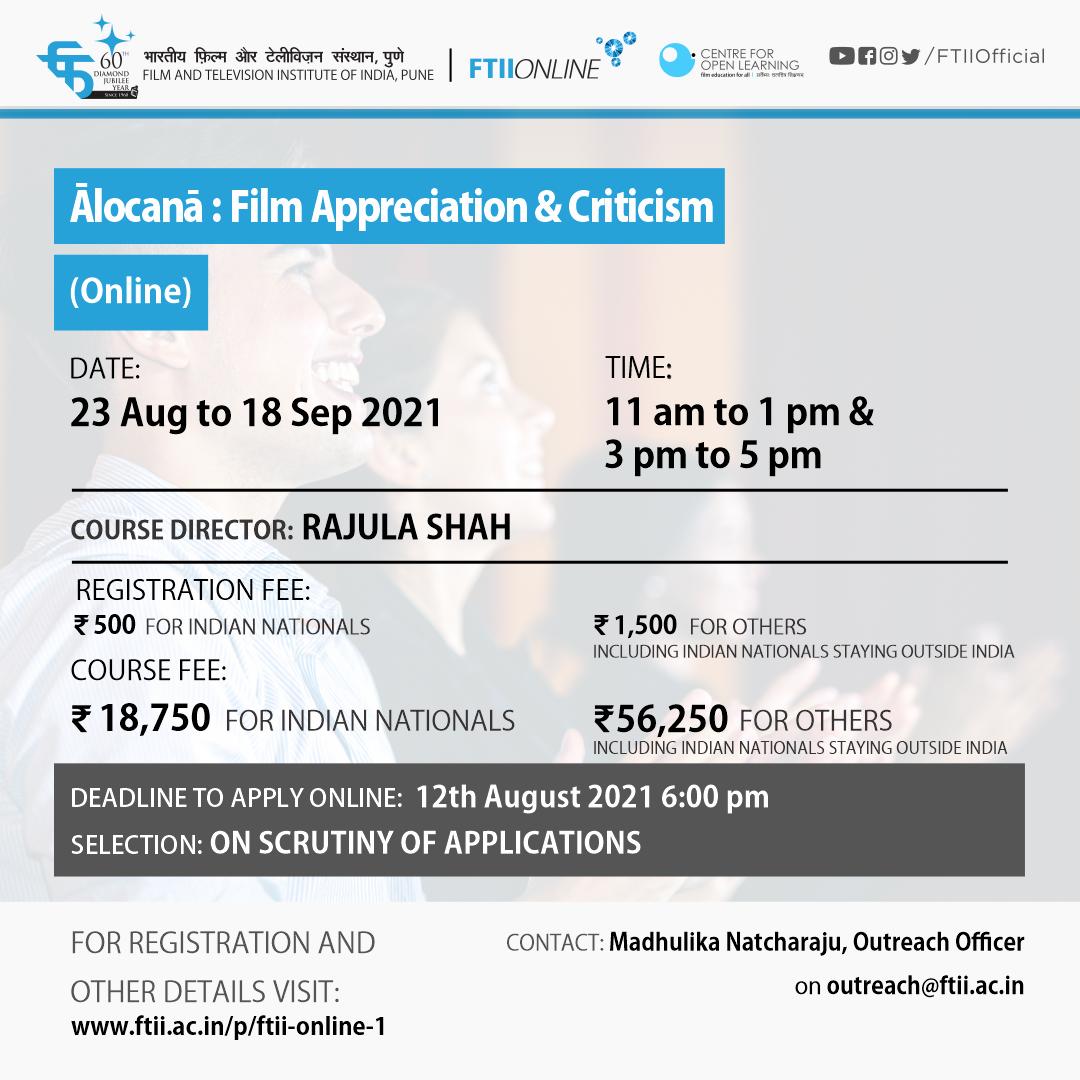 Online Course – Ālocanā : Film Appreciation & Criticism
Film and Television Institute of India (FTII), Pune under its  'Centre For Open Learning (CFOL)' initiative, announces Online Course – Alochana: Film Appreciation and Criticism. Alochana is to look at something from all sides with a view to evaluation. Criticism & Creative Expression come closer in this perspective than they are usually thought of. Course explores the essential connect between the two faculties.

Following are the details in this regard;

(1) Name of the Course:  Ālocanā : Film Appreciation & Criticism
(2) Dates: 23rd August to 18th September 2021 (Monday to Friday and on Saturday 18th September, 2021)
(3) Duration: 21 days
(4) Timings: 11:00 am to 1:00pm and 3:00 pm to 5:00 pm IST
(5) Max. no. of participants: 35 (Course will be conducted only if min. strength of 28 participants is reached)
(6) Age:18 years &above as on 01st Aug. 2021 (participants born on or before 31st July 2003)
(7) Educational Qualification: HSC (12th pass). In exceptional cases, 10th pass may be considered
(8) Online Platform: Google Classroom & Google Meet platform
(9) Medium of Instructions: English
(10) Per applicant fee: There will be two types of fee – Registration fee and Course fee
(a)    Registration fee (application processing fee):
(i)    For Indian Nationals: Rs 500/-
(ii)    For Foreigners including NRI, OCI etc. and also those who are presently staying outside India: Rs 1,500/-.
Please note that Registration fee is non-refundable non-transferrable, non-adjustable, etc. under any circumstances irrespective of being selected and or not selected etc.

(b)    Course fee:
(i)    For Indian Nationals: Rs 18,750/- (inclusive of GST)
(ii)    For Foreigners including NRI, OCI etc. and also those who are presently staying outside India: Rs 56,250/- (inclusive of GST).

Course fee of selected participants, once submitted, will be non-refundable, non-transferrable, non-adjustable, etc. under any circumstances. Course fee of all the non - selected participants will be returned in 07 – 10 days.


(12) Mode of payment: Online through SBI Collect
(13) Due date & time to submit application (along with application fee): 12th August, 2021 6 pm IST. Application submitted after due date & time will not be considered.
(14) Selection Criteria: Participants will be selected on the basis of information provided in the application form. So, initially, participants need to pay registration fee of Rs 500/- or Rs 1500/- (as the case may be) and submit the application form (Google Form).

After scrutinizing the applications, based on the information provided in the application form (Google Form), list of selected participants will be published on our website and selection emails will also be sent.

Only after selection, selected participant need to transfer necessary course fee of Rs 18,750/- or Rs 56,250/- (as the case may be) within stipulated time which will be published on website as well as will be communicated in the email.

(15) Online platform: FTII will be using "Google Classroom" and participants are requested to get familiarized with the same. Steps to join online class including login id & password will be shared with each selected participant in the selection email.
(16) Computer literacy: It is the participant's responsibility to be technologically capable to take an online course. Participants must be computer literate.
(17) MANDATORY REQUIREMENT:

Applicants seeking a serious engagement with the Art of Film through an intensive study of its history, theory and practice are welcome. Those keen on entering Maker's mind, deciphering Narrative codes, understanding creative strategies, developing critical awareness, empowering their voices or wishing to make a difference to the cultural scene with their critical thinking are encouraged to apply.

The course will be intensive and rigorous. Participants are expected to have a keen, unbiased, analytical mind to engage relevantly with contemporary issues and creative expressions of their times. Active listening, spoken articulation & writing skills are desirable. Elementary knowledge of world history, politics, appreciation of film and other arts is an asset.

(1) A Desktop / Laptop having minimum 8 GB RAM, 1.6 GHz or better processor (Intel i3 or i5 or better).  (Windows / MAC)
(2) Operating system: a) Windows 7 or 8 or 10. b) MAC OS Sierra or later
(3) Audio – Video Edit software: Video Player with Latest Codecs pack installed
(4) Compatible good quality headphones/ earphones with mic
(5) Compatible HD webcam
(6) Internet pack of minimum 5 GB per day exclusively for this course. It is recommended to have fixed wired Internet connection with minimum speed of 10 Mbps or more.
(7) Web browser: Latest version of Google Chrome (Preferred), Firefox, Internet Explorer, Safari.

Use of Mobile Phone (in place of Laptop or Desktop Computer) to attend the classes is strictly prohibited. Such participants will not be allowed to join the classes.
(18) Course Director: Ms. Rajula Shah

Rajula Shah is a Filmmaker, Poet & Visual Artist. An alumni of FTII, her practice is imbued with a spirit of discovery & experimentation with studied focus on Oral culture, poetry, philosophy & arts practice. Producer-Director for over two decades exploring boundaries of Fiction/Non-fiction.

Poetry collection Parchhain Ki Khirki Se published & awarded from Bharatiya Gyanpeeth for New Writing (2004). Krishna B. Vaid Fellowship (2018) for Fiction writing. Juror for various National/ International Film Awards. Developing new strategies in the study & practice through cinema in changing contexts.
 
Among significant awards are the Horizonte Prize at Dokfest Munich (GERMANY) for Word within the Word 2008; John Abraham National Award for Best Experimental film for ReTold by Loknath in 2013 & for Jumbled Cans in 2014. Recent film At Home Walking premiered at 2019 Yamagata International Festival, Japan. At present working on a book on Film Director's role in Cinema under a fellowship from FTII.


(19) How to apply:

The application is to be filled in two parts – (I) Payment of application fees and (II) Submission of application form with other information (Google Form). Only when both the parts are completed will we treat it as a complete application.

P.S. Incomplete applications will not be taken into consideration.

Step 1: Payment of application fees

1. Click open the link - https://www.onlinesbi.com/sbicollect/icollecthome.htm OR visit www.onlinesbi.com and further select "SB Collect" which is at the top left, vertically 06th from left to right.
2. Read the "Terms Used", then tick/ click on the 'check box' and further click on "Proceed".
3. Now, select All India in State of Corporate / Institution, then select Educational Institutions in Type of Corporate/ Institution and click Go.
4. Now, search/Find FTII Fees Account in Educational institutions name and click submit.
5. In the payment category select "Application Fee Film Appreciation and Criticism".
6. Fill-up the application form with requisite details and proceed for application fee payment.
7. Make necessary payment of Rs 500/- OR Rs 1500/- as the case may be.
8. Once payment is done, please note "SBcollect Reference Number" (mentioned in payment confirmation receipt). This is required while filling application form (Google Form) & also required for future reference.  
9. If possible, digitally store the receipt of payment. This can be carried out in one of the following ways;
(i) by taking printout of receipt of payment, scan & save it
(ii) by taking screenshot of payment (if using mobile) or printscreen (if using computer)
(iii) by simply taking a photograph from mobile
10. No document/ certificate related to educational qualification, age etc. is to be attached. Participants' self – declaration in the application form is sufficient.
11. Terms & conditions: By agreeing to the terms & conditions in the application form, participants are confirming that they have read & understood the website advt. They are eligible to apply and fulfil all the requirements as stated in the advt. Further, participants agree that decision of FTII Director regarding admission to the course and its conduction will be final.
Further to add in this, it is expected of the participants that during the class they must mute their mics but keep their cameras on unless otherwise instructed. Keeping camera off throughout the class or not heeding to instructions to switch on the camera will be seen as an act of indiscipline and will lead to expulsion from the Course and forfeiture of the Course fee. Decision of FTII Director regarding conducting the course in all respects will be final.

    Step II: Submission of Application Form (Google Form): This form is to be submitted only after payment of necessary application fee (Rs 500/- or 1500/- as the case may be). Failing to submit the application fee first (before this form), the application will be rejected.

(i)    Click on the link stated below for submitting application form (Google Form):

https://forms.gle/cQhuZWEuWqXwU5Sp9

Please note that the application form link will be disabled immediately after 6pm (IST) on 03rd Aug. 2021. Incomplete applications will be not be considered.


(20) Communication with participants: All communications with the participants will be carried out through email only. List of shortlisted participants may be published on FTII website and selection email will be sent to the selected participants on their registered email id.
(21) Certificates: All participants would be given participation e-certificates on successful completion of the course. Minimum 90% attendance is mandatory.
(22) Queries: For any queries please contact Madhulika Natcharaju on outreach@ftii.ac.in

Course Details
CONTEXT

The root of the Sanskrit word A-locana means to look at something from all sides with a view to its evaluation; carefully considering it in all its possibilities, dimensions and depth before making a judgment. Looking at it from this perspective, Criticism & Creative Expression come closer than they are usually thought of. This connect between a Director's sensibility and a Critic's mind, is central to the course context.

Strong Film cultures in History, have been witness to analogous growth of Film criticism. A good critic's role is crucial to the making/unmaking of a healthy culture; is highly influential in directing viewers' attention to finer purpose of Art; in contributing to a climate of reflection and the creation of a new viewership.
The co-existence of a creative mind (Film Director) and a critical mind (Film Critic) makes for a symbiotic, responsible living culture. Its marginality in the prevailing culture of paid reviews, publicity stunts, mindless entertainment and propaganda is of grave concern.

OBJECTIVE

Having the freedom to say what one wants requires enormous discipline and craft of expression. A serious Film Director & Critic's creative work & response feeds back into the environment, making it stronger, more vibrant, raising the bar for creators & audience alike. The need & scope for critical thinking & evaluation is expanding with the changing patterns of viewing, distribution, content creation. This course is invested in the emotional and intellectual development of young curious minds via a study of Cinema. It also looks to empowering their individual Voices.

COURSE OUTLINE

A complex, interconnected, layered Story of Cinema. An enriching journey of creative revolution unfolding in the youngest art through the human interface with Science, Technology and Art. A close study of its development and emergence into contemporary cultures of creative expression.

1. Pre-Cinema & Birth of Cinema
Technology; Inventions; Youngest of Art; Patents; War

2. Formative Years
Directed Perception, Educating the Senses; Experiment; World politics

3. Coming of Age
Creative rebellion; Auteurs; Transcending barriers; One world

4. Ripeness/  Inter being
Universal language; Collapsing borders, Digitality; Future Cinema