---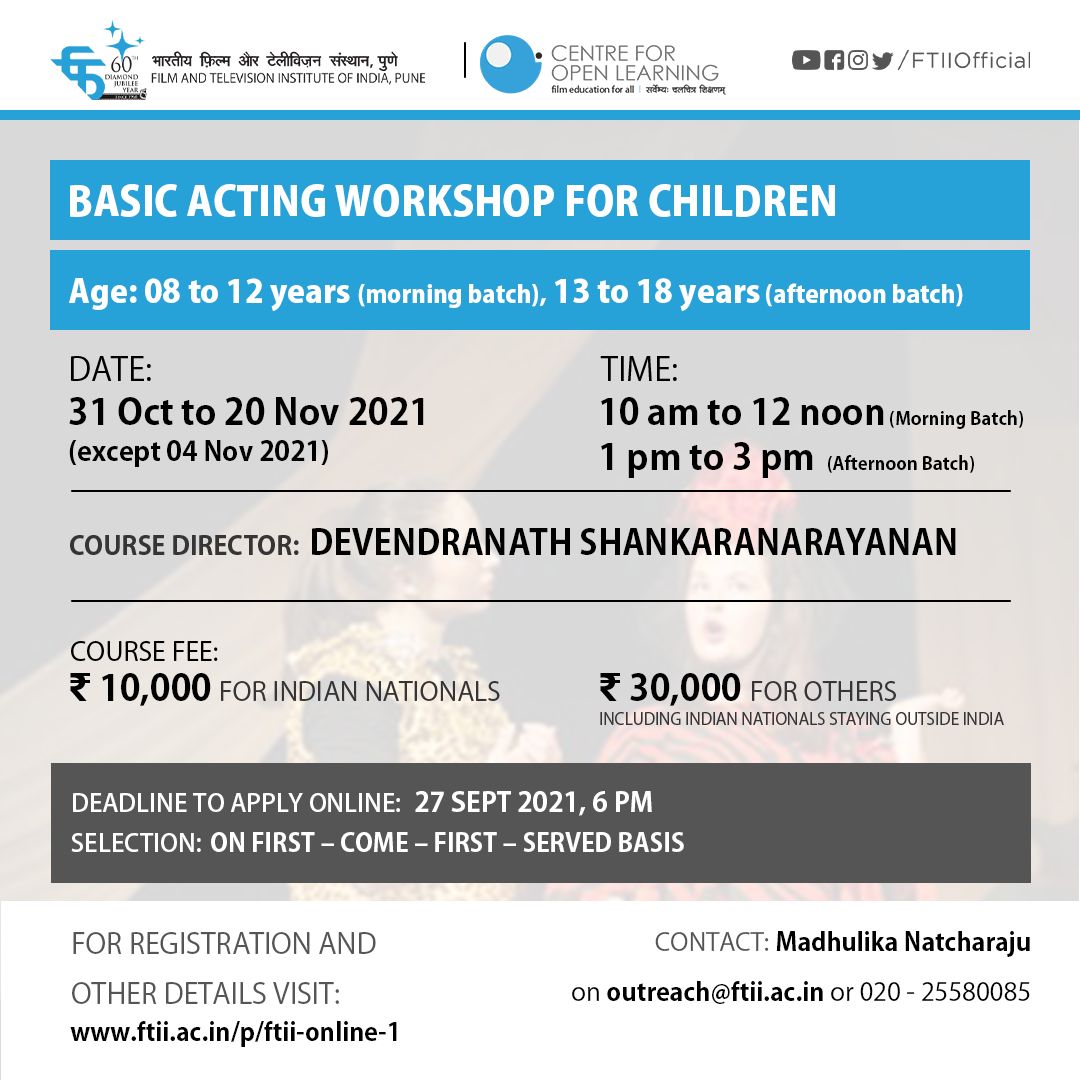 Basic Acting Workshop for Children (Online) from 31st Oct. to 14th Nov. 2021

Film & Television Institute of India (FTII), Pune, under its Centre For Open Learning (CFOL) initiative announces Basic Acting Workshop for Children (online).

Following are the details in this regard;

(1)    Name of the children workshop: Basic Acting Workshop for Children (Online)
(2)    Dates: 31st Oct. to 14th Nov. 2021 (including Saturdays & Sundays, excluding 04th Nov. 2021)
(3)    Duration: 28 hrs course per batch (02 hrs per day per batch spread over 14 days)
(4)    Age: (a) 08 to 12 years completed as on 01st Oct. 2021 – Morning batch
(b) 13 years running to 18 years running (not completed) as on 01st Oct. 2021– Afternoon batch
(5)    Timings: (a) 10 am to 12 noon (IST) – Morning batch (08 years to 12 years)
                 (b) 1 pm to 3 pm (IST) – Afternoon batch (13 years running to 18 years running)
(6)    No. of participants: 20 – 25 in Morning & 20 – 25 in Afternoon batch. Course may not be conducted if there are less than 20 participants per batch.
(7)    Medium of Instructions: Mainly English & partly Hindi
(8)    Per Participant Course fee:
(a)    For Indian Nationals: Rs10,000/- (base fee = Rs 8,475/- and GST = Rs 1,525/-)
(b)    For Foreigners including NRI, OCI etc. and also those Indian Nationals who are presently staying outside India: Rs 30,000/- (base fee = Rs 25,424/- and GST = Rs 4,576/-).
Course fee of selected participants will be non-refundable, non-transferrable, non-adjustable, etc. under any circumstances. Course fee of all the non – selected participants will be returned within 07 – 10 days of the course commencement.
(9)     Mode of payment: Online through SBI Collect (along with application form).
(10)   Due date & time to submit application: 27th Sept. 2021, 6 pm IST. Application submitted after due date & time will not be considered.
(11)   Selection Criteria: On First – Come – First – Served Basis.List of selected participants will be published on FTII website. Also, selection emails will be sent to all the selected participants.
(12)   Online platform: FTII will be using "Google Classroom" and participants are requested to get familiarized with the same. Steps to join online class including login id & password will be shared with each selected participant in the selection email.
(13)   Computer literacy: It is the participant's responsibility to be technologically capable to take an online course. Participants must be computer literate.
(14)   MANDATORY REQUIREMENT:
Since the course is online, participants must have following facilities;

(i) A Desktop / Laptop having minimum 4 GB RAM, 1.6 GHz or better processor (Intel i3 or i5 or better).  (Windows / MAC)
(ii) Operating system: a) Windows 7 or 8 or 10. b) MAC OS Sierra or later
(iii) Audio – Video software: Latest versions of VLC player, Windows Media Player or Quick Time Player.
(iv) Compatible good quality headphones/ earphones with mic
(v) Compatible HD webcam
(vi) Internet pack of minimum 3 GB per day exclusively for this course. It is recommended to have fixed wired Internet connection with minimum speed of 10 Mbps or more.
(viii) Web browser: Latest version of Google Chrome (Preferred), Firefox, Internet Explorer, Safari.

Use of Mobile Phone (in place of Laptop or Desktop Computer) to attend the classes is strictly prohibited. Such participants will not be allowed to join the classes.
(15)   Course Director: Mr. Devendranath Shankaranarayanan

A performance researcher, theatre practitioner, and acting coach, Devendranath Shankaranarayanan is a Master of International Performance Research from University of Warwick (UK), University of Amsterdam (Netherlands), and University of Helsinki/Tampere (Finland) with Erasmus Mundus scholarship of European Union. He is also a recipient of Young Artist Scholarship by the Ministry of Culture, Govt. of India.
He is the course director of Basic Acting for Children, under the project Skilling India in Film and Television (SKIFT) at the Film and Television Institute of India (FTII), Pune, Maharashtra and the course director and HOD (acting) at Luminar Film Academy, Kochi. He is also visiting faculty for various institutes including School of Drama and Fine Arts, University of Calicut and KR Narayanan National Institute of Visual Science and Arts, Kottayam, Kerala.
He is also the key resource person and module designing consultant for 'Hello English', a programme conducted by Sarva Shiksha Abhiyan, Department of Education, Government of Kerala and 'Teacher Transformation Programme' for Higher Secondary School teachers of Kerala in collaboration with the higher education department of Kerala. He is also the course director and facilitator for the Tribal Education Project of Kudumbasree Mission, a project by the Government of Kerala at Malapuram district.
His experience includes working in various theatre productions in multiple languages.  He has directed and designed many national and international productions.
As a performance researcher, he has been keenly observing the changing trends of pedagogic practices. He has been presenting research papers in international and national academic seminars and webinars.



(16)   How to apply:

1. Click open the link - https://www.onlinesbi.com/sbicollect/icollecthome.htm OR visit www.onlinesbi.com and further click on "SB Collect" which is at the top left, vertically 06th from left to right.
3. Read the "Terms Used", then tick/ click on the 'check box' and further click on "Proceed"
4. Select "All India" in State of Corporate/ Institution, then select "Educational Institutions" in Type of Corporate/ Institution and click Go.
5. Search/ Find "FTII Fees Account" in Educational institutions name and click submit.
6. In the payment category select "B2 Basic Acting Course for Children (Online)".
7. Fill-up the application form with requisite details and proceed for payment.
8. Make necessary payment of Rs 10,000/- OR Rs 30,000/- as the case may be.
9. Once payment is done, please note "SBcollect Reference Number" (mentioned in payment confirmation receipt). This may be required for future reference.  
10. If possible, digitally store the receipt of payment. This can be carried out in one of the following ways;
(i) by taking printout of receipt of payment, scan & save it
(ii) by taking screenshot of payment (if using mobile) or printscreen (if using computer)
(iii) by simply taking a photograph from mobile
11. No document/ certificate related to educational qualification, age etc. is to be attached.Participants' self – declaration in the application form is sufficient.
12. Terms & conditions: By agreeing to the terms & conditions in the application form, participants are confirming that they have read & understood the website advt. They are eligible to apply and fulfil all the requirements as stated in the advt. Further, participants agree that decision of FTII Director regarding admission to the course and its conduction will be final.
    Further to add in this, it is expected of the participants that during the class they must mute their mics but keep their cameras on unless otherwise instructed. Keeping camera off throughout the class or not heeding to instructions to switch on the camera will be seen as an act of indiscipline and will lead to expulsion from the Course and forfeiture of the Course fee. Decision of FTII Director regarding conducting the course in all respects will be final.

(17)   Communication with participants: All communications with the participants will be carried out through email only. List of shortlisted participants may be published on FTII and selection email will be sent to the selected participants on their registered email id.
(18)   Certificates: All participants would be given participation e-certificates on successful completion of the course. Minimum 90% attendance is mandatory.
(19)   Queries: For any queries please contact Ms Madhulika, Outreach Officer on outreach@ftii.ac.in OR on 020 – 25580085
Course Details

General Overview

This 14 day long online acting course for children will familiarize the participants with a range of acting approaches, improvisation techniques, voice and speech modulations, and ways of using the multiple possibilities of body and its flexibilities. The objective is to shape and condition the participant's body and mind into instruments capable of meeting the demands of an increasingly competitive contemporary world. They will be trained using a variety of theatre, new media and virtual performance methods along with martial and meditative practices to achieve this.

The focus of the course would be to help the participants react to their surroundings in an improved and effective way; it helps the participants shape their body to better reflect their inner world with reference to their individual perception of the outer world. Also focusing to use the creative energy of the phsycho-physical state which they are going through during the pandemic in a meaningful way.  This will primarily lead the talents to better communication and interactive skills.


Course Module:
(a) Being in front of the Camera
o    Basic Acting Practical Sessions
o    Interacting with the virtual world  
o    Magnifications and camera positions
o    Introductory sessions on basic acting
o    Improvisations–body,
o    Voice and mind; knowing the self.
o    Group improvisation–verbal and non‐verbal
o    Individual improvisation–Verbal and non‐verbal
o    Assignments–Presentation of self‐reflective pieces and documentation

(b) Voice, Speech, and Beyond
o    Breath, tempo, pitch, volume, pause, clarity, sense, and memory of words
o    Voice and speech clarity
o    Effective and efficient use of speech
o    Pitch, volume, and tempo
o    Articulation and modulation
o    Voice and effective communication
o    Voice to creative music–improvisation
o    Voice and body
o    Story telling
o    Improvisation- short presentations


(c) Concentration Exercises
o    Outer to inner and inner to outer
o    Concentration on eyes
o    Focus
o    Concentration on body and its movements
o    Observations of concentrated thought process
o    Finding out the energy points in body
o    Body and its surroundings
o    Imagination/Visualization processes
o    Meditation

(d) Sense Memory Exercises
o    Exercises for recalling senses
o    Games to develop senses and memory
o    Use of sense and memory in a creative practice

(e) The World of Imagination
o    Senses to imagination
o    Recalling memory in the form of visuals
o    Connection of visuals from past to future
o    Creating stories and presentation

(f) Improvisation-The way of Multiple Possibilities of Flexibilities
o    Improvisation based on body and its movements–short presentations
o    Improvisation based on situations/ideas, environment–short presentations
o    Improvisation based on senses and basic emotions–short presentations
o    Verbal and nonverbal improvisations
o    Improvisation based on characters and situations–short presentations
o    Scene improvisations–short presentations
o    A major improvisation based on a well-made idea

(g) Body and Movements
o    Knowing the body and the ways of exploring it
o    Body and its energy
o    Balance, stability, flexibility, specificity, etc.
o    Exploration of the space around
o    Focus and actions
o    Movement and rhythm
o    Movement and gestures
o    Movement and emotions
o    Body and expressions
o    Expressions through music and external sounds
o    Body and its postures, language, and the possibilities
o    Understanding the co-participant through body movement and its nature
o    Understanding the world around through the body and the movements
o    Recreating character/s through body language
o    Improvisation

(h) The Ensemble
o    Creating a virtual performance
o    Music from improvised voice and sound
o    Art installations with improvised theme/s
o    The basic understanding of making a script, its presentations