---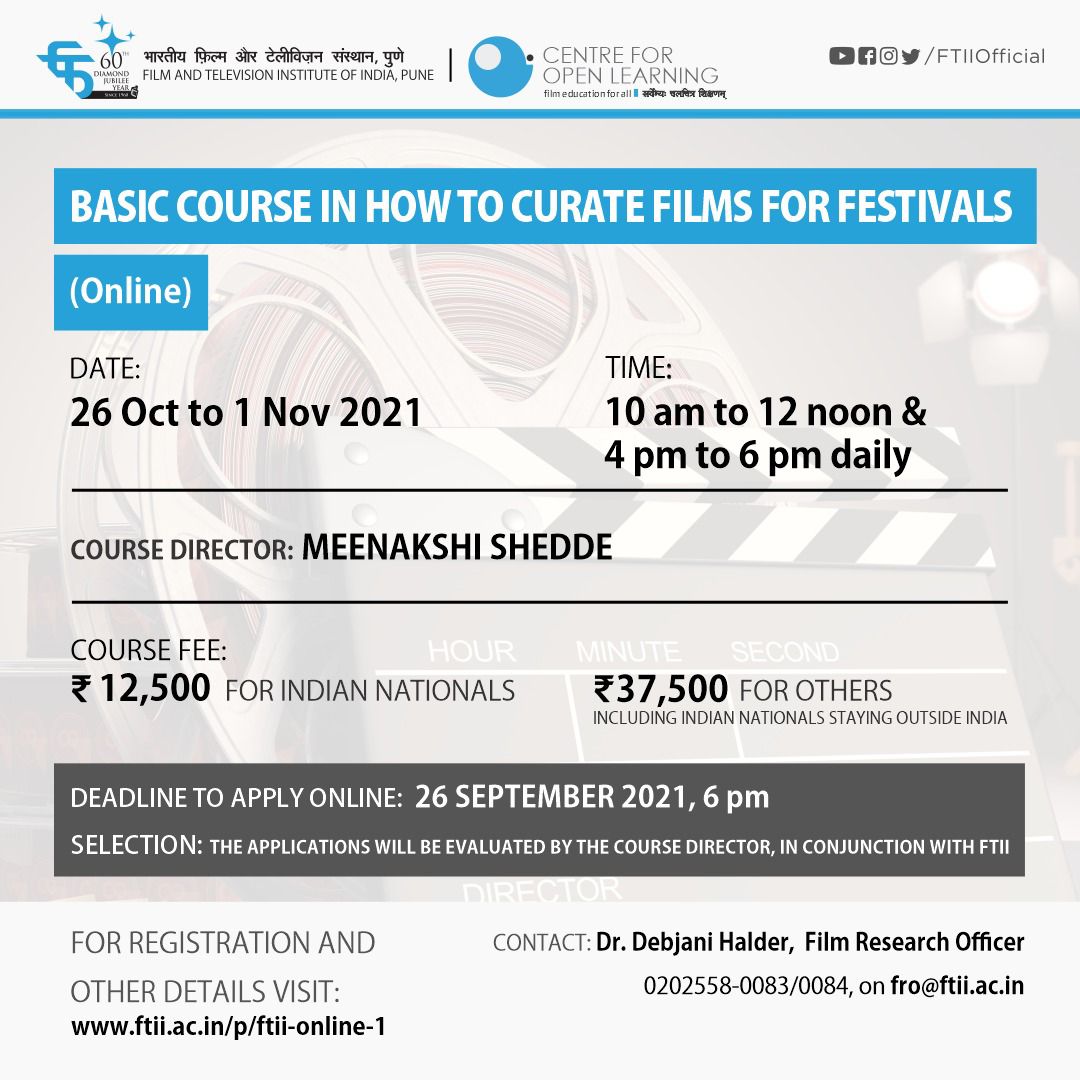 Film and Television Institute of India (FTII), Pune, under its Center for Open Learning initiative (CFOL) invites applications for its Basic Course in How to Curate Films for Film Festivals (Online, 7 days, 26th October to 1st November 2021)

This unique course is being offered for the first time in FTII's history, in its diamond jubilee year.

The contours of the Course will broadly be as under:
Most mass media are turning to video, and there is tremendous interest in films in any case. There are over 100 film festivals in India alone, and thousands worldwide. There are currently exceptionally few professionally run courses in India to teach how to curate films for film festivals, including among film institutes, if at all. The quality of film programming, therefore, suffers greatly as programmers are forced to learn on the job by trial and error, often resulting in film festivals losing audiences.
        
Curating for film festivals involves creating dynamic, stimulating film programmes that will be appreciated and discussed by film lovers and the public in India and worldwide. This course will teach participants how to become high quality film programmers and curators, who can curate for festivals in India and globally. They will learn how to curate films to draw film audiences, create and sustain interest and discussions around film.

Course content

This customized film curating course will teach participants:
How to curate films for film festivals, nationally and internationally
Understand how film festivals work, theme-based packages and programming for different festival sections
360 degree approach: feature films, documentaries, shorts, student films
How to come up with ideas/concepts for curating film packages; genre-based, issue-based, country-based packages
What are the requirements of curating films for festivals
Understanding the target audience
How to build resources and partnerships, and invent curating opportunities
Multimedia approach
Who is the course meant for?

Anyone who wants to become a film programmer or curator for film festivals in India or internationally
Any film programmer/curator who wants to upgrade his/her professional skills, film and festival knowledge, and resourcefulness in curating

The Course will be conducted by  Ms Meenakshi Shedde

Meenakshi Shedde is India and South Asia Delegate, Berlin Film Festival, pre-selecting films since 1998, and independent film curator, based in Mumbai, India. Winner of India's National Film Award for Best Film Critic, she has been on the jury of 20 international film festivals, including Cannes, Berlin and Venice. She has been international curator/ programmer/ consultant to the Berlin Film Festival, Toronto (TIFF Bell Lightbox), Locarno, Busan, Dubai, IFFI-Goa, Kerala and Mumbai Film Festivals; British Film Institute (BFI, London), Asia Pacific Screen Awards (APSA, Australia) and Kochi Muziris Biennale (India). She has been Script Lab Mentor and Critics' Lab Mentor worldwide, and Consultant to top Film Funds in the US and Europe. A senior journalist, she freelances for Variety, Screen International, Sight & Sound, Film Comment, Cahiers du Cinema, Times of India and Midday, and has written for/edited 19 books.

Following are the details in this regard:

1 Dates & duration: 26th October to 1st November 2021(including Saturday, Sunday and public holidays), totalling 07 days
2 Timings: 10 am to 12 noon and 4 pm to 6 pm daily + practical homework
3 Max. no. of participants: Up to 20 (Course will be conducted only if minimum strength of 16 participants is reached)
4 Age: Participants must be 21 years of age & above as on  1st October  2021
5 Educational Qualification: Graduation (Bachelor's degree in any subject). Participants need to upload self – attested photocopy (ies) of degree certificate or marksheet(s). In exceptional cases, HSC (12th std. pass) may also be considered, if film experience/aptitude is proven.
6 Nationality: Indian and Others (Including Indian Nationals staying outside India)

7 Application Fee: -
*Application fee of Rs.500/- (Rupees Five Hundred only) for Indian Citizens and Rs 1500/- (Rupees Fifteen Hundred only) for Others (Including Indian Nationals presently staying outside India) should be transferred online on FTII Account through SBI Payment Portal at
https://www.onlinesbi.com/sbicollect/icollecthome.htm
Application fee is non-refundable/ non - transferable/ non – adjustable etc under all circumstances. *

8  *Course fees:  The fees will be Rs. 12,500/- (including 18% GST) for Indian Citizens and Rs. 37,500/- for Others (Including Indian Nationals presently staying outside India). Fees should be transferred online on FTII Account through SBI Payment Portal at
https://www.onlinesbi.com/sbicollect/icollecthome.htm
Those shortlisted after scrutinizing the applications will be required to pay the course fees. The course fee of selected participants  is non-refundable, non-transferable, non-adjustable etc. under all circumstances.*

(9)  N.B.  i-Online google form
 
https://docs.google.com/forms/d/e/1FAIpQLSfNL7dyoE5DNefLPJU0fXzyGLoZlkJTRsibXH_Hr87ecADY1Q/viewform?usp=sf_link

    ii- The applicant must upload self-attested credentials, wherever asked for.
    iii- Application fee without Google Form will not be considered
 
(10) MANDATORY REQUIREMENT: Since the course is online, participants must have the following facilities:-
 A Desktop / Laptop having minimum 8 GB RAM, 1.6 GHz or better processor (Intel i3 or i5 or better).  (Windows / MAC)
i (Operating system: a) Windows 7 or 8 or 10. b) MAC OS Sierra or later
ii Audio – Video software: Latest versions of VLC player, Windows Media Player or Quick Time Player.
iii Compatible good quality headphones/ earphones with mic
iv  Compatible HD webcam
v  Internet pack of minimum 6 GB per day exclusively for this course. It is recommended to have fixed wired Internet connection with minimum speed of 10 Mbps or more.
vi  Web browser: Latest version of Google Chrome (Preferred), Firefox, Internet Explorer, Safari.

(11) Terms and Conditions: -

I Google Form without receiving necessary application fee will not be considered.
II Certificates: Participants would be given participation e-certificates on successful completion of the course subject to 90% attendance.
III Selection Criteria: On the basis of information stated in the Google form
IV Medium of Instructions: English & Hindi
V  List of shortlisted candidates will be published on FTII website. Emails will be sent to the shortlisted participants.
VI  Online platform: The course will be conducted on "Google Classroom" and participants are requested to get familiarized with the same. Steps to join online class including login id & password will be shared with each selected participant in the selection email.
VII  Computer literacy: It is the participant's responsibility to be technologically capable to take course.
VIII Participants will need to use a Laptop or Desktop Computer for the course.
Use of Mobile Phone (in place of Laptop or Desktop Computer) to attend the classes is strictly prohibited. Such participants will not be allowed to join the classes.

IX By agreeing to the terms & conditions in the application form AND OR by paying course fee, participants are confirming that they have read & understood the website advt. They are eligible to apply and fulfil all the requirements as stated in the advt. Further, participants agree that decision of FTII Director regarding admission to the course and its conduct will be final. Further to add in this, it is expected of the participants that during the class they must mute their mics but keep their cameras on unless otherwise instructed. Keeping camera off through much of the class or not heeding to instructions to switch on the camera will be seen as an act of indiscipline and will lead to expulsion from the Course and forfeiture of the Course fee. Decision of FTII Director regarding conducting the course in all respects will be final.


(12) Payment Procedure:
1. Click open the link - https://www.onlinesbi.com/sbicollect/icollecthome.htm
2. Select All India in State of Corporate / Institution, then select Educational Institutions in Type of Corporate / Institution and click Go.
3. Search/Find FTII Fees Account in Educational institutions name and click submit.
4. Select "App. Fee – Basic C in How to Curate Films for Film Festivals" in Select Payment Category.
5. Fill up the payment form with requisite details and proceed for payment.

(13) Important Date
 
Deadline for Receiving Online Application: 26th September 2021, 6 PM (IST)
 (14) For any queries, please Contact
                             Name of POC:- Ms. Debjani Halder, Ph.D.
                             Designation:-Film Research Officer (FRO)
                             FTII, Pune
                             Contact: - Tel:  2558-0083, 0084
Contact Timing: - Monday to Friday. 12 noon  to 5.30 PM.
Email Query Subject Line:
Basic Course in How to Curate Films for Film Festivals (26th October to 1st November 2021)

Email: fro@ftii.ac.in ,

Selected candidates will be informed by email. Course fees paid by selected candidates will be non – refundable, non – transferable, non – adjustable etc under all circumstances.