---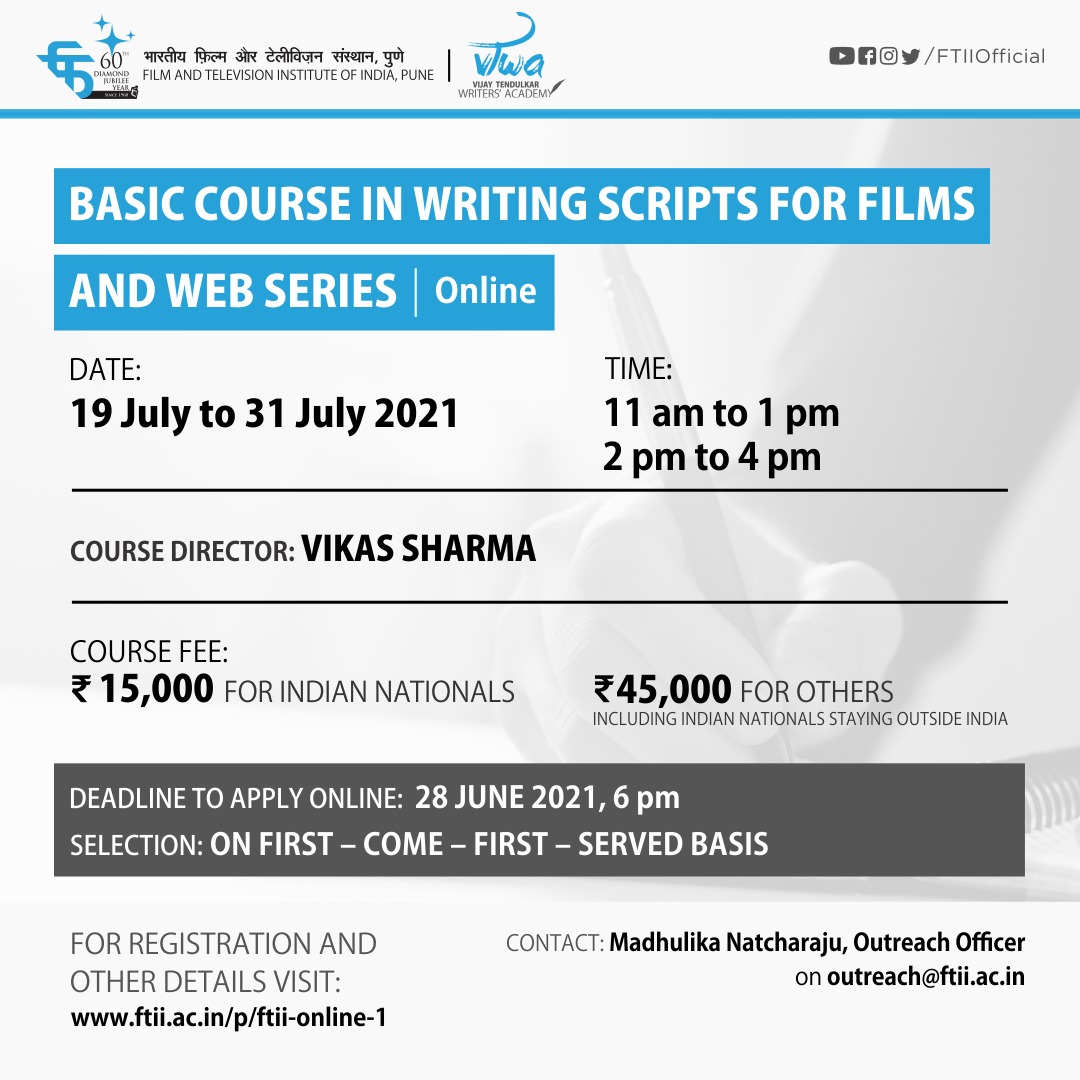 Basic Course in Writing Scripts for Films and Web Series (Online ) from 19th to 31st July 2021
Film and Television Institute of India (FTII), Pune, under its Vijay Tendulkar Writers' Academy (VTWA), announces Online  Basic Course in Writing Scripts for Films and Web Series.
Following are the details in this regard;
(1)
Name of the Online Course:
Basic Course in Writing Scripts for Films and Web Series
(2)
Dates:
19th to 31st July 2021 (12 Days excluding Sundays)
(3)
Timings:
11 am to 1 pm and 2 pm to 4 pm (Indian Standard Time – IST) – 04 hrs per day
(4)
Max. no. of participants:
25 (Course may not be conducted if there are less than 20 participants)
(5)
Age:
18 years & above as on 01st July 2021 (participants born on or before 30th June 2003)
(6)
Educational Qualification:
HSC (12th pass). In exceptional cases, 10th pass may be considered
(7)
Online Platform:
Google Classroom & Google Meet platform
(8)
Medium of Instructions:
English& Hindi
(9)
Per Participant Course fee:
(a)
For Indian Nationals: Rs 15,000/- (base fee = Rs 12,712/- and GST = Rs 2,288/-) 
(b)
For Foreigners including NRI, OCI etc. and also those Indian Nationals who are presently staying outside India: Rs 45,000/- (base fee = Rs 38,136/- and GST = Rs 6,864/-).
Course fee of selected participants will be non-refundable, non-transferrable, non-adjustable, etc. under any circumstances. Course fee of all the non – selected participants will be returned within 07 – 10 days of the course commencement.
(10)
Mode of payment:
Online through SBI Collect (along with application form).
(11)
Due date & time to submit application:
 28th June 2021, 6 pm IST. Application submitted after due date & time will not be considered.
(12)
Selection Criteria:
On First – Come – First – Served Basis.List of selected participants will be published on our website and selection emails will also be sent to all the selected participants. 
(13)
Online platform:
FTII will be using "Google Classroom" and participants are requested to get familiarized with the same. Steps to join online class including login id & password will be shared with each selected participant in the selection email. 
(14)
Computer literacy:
It is the participant's responsibility to be technologically capable to take an online course. Participants must be computer literate.
(15)
MANDATORY REQUIREMENT:
Since the course is online, participants must have following facilities;
(i) A Desktop / Laptop having minimum 4 GB RAM, 1.6 GHz or better processor (Intel i3 or i5 or better).  (Windows / MAC)
(ii) Operating system: a) Windows 7 or 8 or 10. b) MAC OS Sierra or later 
(iii) Audio – Video software: Latest versions of VLC player, Windows Media Player or Quick Time Player.
(iv) Compatible good quality headphones/ earphones with mic
(v) Compatible HD webcam
(vi) Internet pack of minimum 5 GB per day exclusively for this course. It is recommended to have fixed wired Internet connection with minimum speed of 10 Mbps or more.
(vii) Web browser: Latest version of Google Chrome (Preferred), Firefox, Internet Explorer, Safari.
Use of Mobile Phone (in place of Laptop or Desktop Computer) to attend the classes is strictly prohibited. Such participants will not be allowed to join the classes.
(16)
Course Director:
Vikas Sharma
Vikas Sharma is a professional screenwriter of the Hindi film industry, a freelance script consultant, and a full-time senior faculty of Screenwriting at Whistling Woods International since January 2016. Before Whistling Woods, he taught scriptwriting at the Film and TV Institute of India, Pune, from April 2011 to December 2015. He conducts screenplay writing workshops in India and abroad for Film Schools, Media Colleges, Universities, Film Festivals, Skill India Programme, etc. 
Vikas has also been a mentor and a chief advisor for various script labs and fellowships such as Asia Society's New Voices Fellowship for Screenwriters, 100 Storyteller Programme, Cinerise Screenwriting Programme, Cinestaan India's Script Contest, to name a few.
2. Read the "Terms Used", then tick/ click on the 'check box' and further click on "Proceed"
3. Select All India in State of Corporate / Institution, then select Educational Institutions in Type of Corporate/ Institution and click Go.
4. Search/Find FTII Fees Account in Educational institutions name and click submit. 
5. In the payment category select "B2 Basic C in Writing Scripts for Films Web Series".
6. Fill-up the application form with requisite details and proceed for payment.
7. Make necessary payment of Rs 15,000/- OR Rs 45,000/- as the case may be.
8. Once payment is done, please note "SBcollect Reference Number" (mentioned in payment confirmation receipt). This may be required for future reference.  
9. If possible, digitally store the receipt of payment. This can be carried out in one of the following ways;
(i) by taking printout of receipt of payment, scan & save it 
(ii) by taking screenshot of payment (if using mobile) or printscreen (if using computer) 
(iii) by simply taking a photograph from mobile
(iv) check your bank account to confirm whether money (course fee) has been deducted or not
(v) After a day or two, once again check to see whether money (course fee) has been refunded.
(vi) In case of refund, it is a transaction failure and if so, once again apply for the course afresh.
10. No document/ certificate related to educational qualification, age etc. is to be attached.Participants' self – declaration in the application form is sufficient.
11. Terms & conditions: By agreeing to the terms & conditions in the application form, participants are confirming that they have read & understood the website advt. They are eligible to apply and fulfil all the requirements as stated in the advt. Further, participants agree that decision of FTII Director regarding admission to the course and its conduction will be final. 
Further to add in this, it is expected of the participants that during the class they must mute their mics but keep their cameras on unless otherwise instructed. Keeping camera off throughout the class or not heeding to instructions to switch on the camera will be seen as an act of indiscipline and will lead to expulsion from the Course and forfeiture of the Course fee. Decision of FTII Director regarding conducting the course in all respects will be final.
(18)
Communication with participants:
All communications with the participants will be carried out through email only. List of shortlisted participants may be published on FTII website and selection email will be sent to the selected participants on their registered email id.
(19)
Certificates:
All participants would be given participation e-certificates on successful completion of the course. Minimum 90% attendance is mandatory.
(20)
Queries:
For any queries please contact Ms Madhulika, Outreach Officer on outreach@ftii.ac.in 
Course Details
1.
The importance of storytelling, stories,
helping to make sense of life. Introducing screenwriting, elements of a screenplay. Short films will be screened to illustrate the above.
2.
Difference between writing for a film and series. 
3.
An elaboration of the central idea – the premise. Developing that into plot. The journey from idea to expression: Organizing experience and fantasy into a coherent dramaturgy. 
4.
How Central Idea is different in Drama from Comedy. 
5.
The importance of subplots in Series. 
6.
Character, characterization, researching and discovering interesting dimensions of the character, constructing character biographies which are relevant to the plot, examining the dialectic between character and plot.
7.
Structuring the screenplay. Discovering the inherent structure of every story, with respect to the intention of its author for it. A brief introduction to classical Aristotlean theory of structure – the three acts.
8.
Scene design, or construction, and dialogue writing. 
9.
What's the need for Cliffhanger end/hook?  
10.
Participants will do many writing exercises and develop ideas individually and in groups as well.